TECHNOLOGY
New proven technologies that give you a state of the area experience. NextGen Invent, your technology partner
MOBILE SOLUTIONS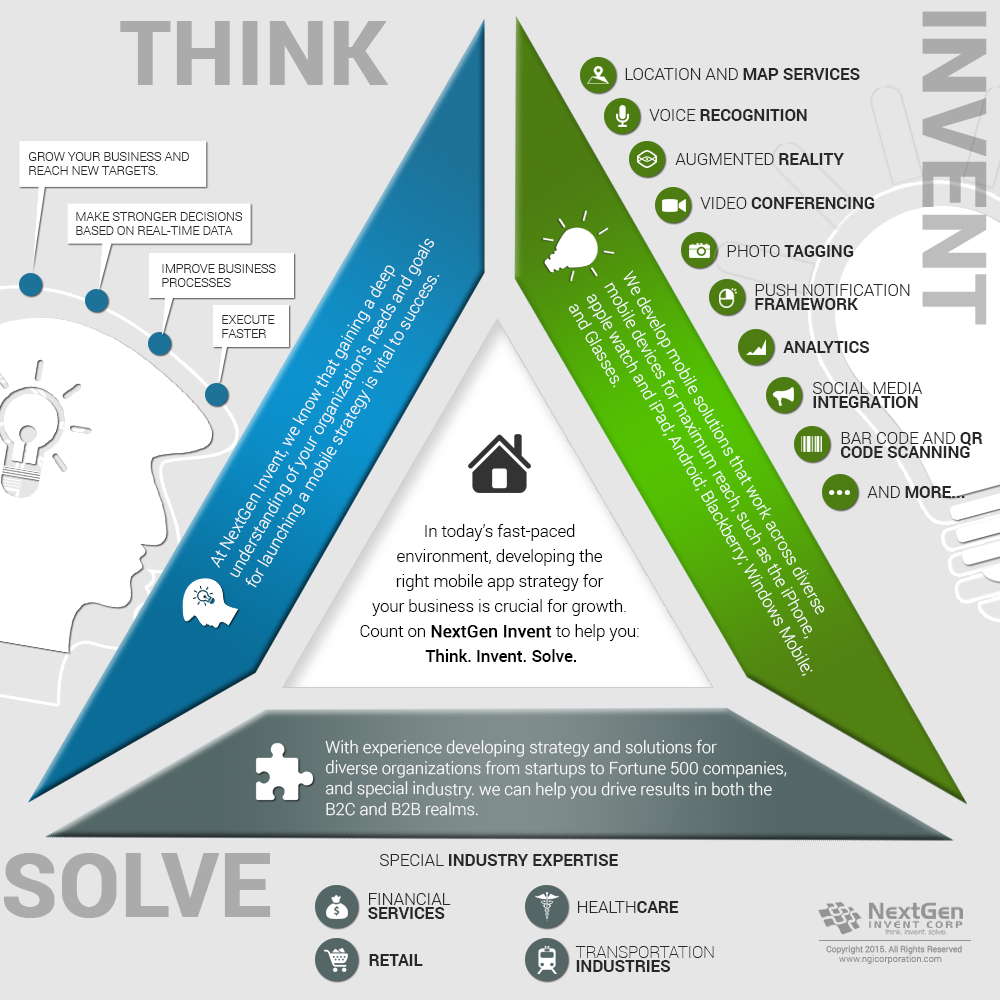 At NextGen Invent, we know that gaining a deep understanding of your organization's needs and goals for launching a mobile strategy is vital to success. This is why we pride ourselves on being more than just mobile app providers. Our world-class mobile strategists partner with you to develop a mobile strategy and solutions tailored to meet your needs.

Request a Free consultation and learn how an innovative mobile strategy can help you:

Grow your business and reach new targets.
Improve business processes.
Make stronger decisions based on real-time data.
Execute faster.

We develop mobile solutions that work across diverse mobile devices for maximum reach, such as the iPhone, Apple watch and iPad; Android; Blackberry; Windows Mobile; and Glasses.
Contact us today and discover how your organization can benefit from our unique mobile capabilities that include:

Location and map services
Voice recognition
Augmented Reality
Video conferencing
Photo tagging
Push notification framework
Analytics
Social media integration
Bar code and QR code scanning
Workflow management
Offline data sync
E-Sign
Payment gateways

With experience developing strategy and solutions for diverse organizations from startups to Fortune 500 companies, and special industry expertise in the financial services, healthcare, retail, and transportation industries, we can help you drive results in both the B2C and B2B realms.
We partner with you throughout the development process and beyond. From analysis and strategy to development and testing, and finally to maintenance — NextGen Invent is there to help you succeed.
View our case studies below and explore the many ways organizations are benefiting from our mobile solutions.
CLOUD SERVICES
NextGen provides cloud solutions which allow for the more efficient use of resources and allocation of your time. As a result of our cloud services, we can guarantee cost-effective results that will contribute to the growth of your business. We have the ability to manage and process data through the cloud.
Our cloud based technology includes:
System integration
Custom solutions
Cloud computing using Amazon Web Services, Microsoft Azure, IBM Bluemix and Rackspace
SYSTEM INTEGRATION
Team members who have been CTO / CIO of various organizations.
Team members with experience in doing hundreds of gap analysis.
Expertise in multiple programming languages
Experience in building various information exchange hub using various industry standards (FIX, ACORD, MISMO, BPML, HIPPA).
Experience in best of the breed products implementation and support.
Experience in building CRM products as development extension arm of various CRM companies.
Expertise in implementing various CRM and analytics projects.

CRM and Analytics solutions using SAS, and Sales Force for Fortune 500 companies.
Business Process Management and Rule Engine solutions using SharePoint, iRule, Blaze, jBPM, Biztalk, and Drools
Software product selection that meets business goals
Gap analysis: Gather business requirements and identify gaps which selected software cannot meet out of the box.
System integration
TESTING AUTOMATION
NextGen's automation process covers all aspects of automatic testing to allow for the controlling of various tests that help with comparing outcomes and reducing the need for long and complicated manual testing. We develop, design, plan, maintain, and execute. The steps involved in our approach are:
Decision to automate testing
Test tool acquisition
Automated testing introduction process
Test planning, design, and development
Execution and management of tests
Test program review and assessment
Our process includes test management tools, web and cloud test strategy, API test strategy, unit test strategy, performance test strategy, functional test strategy, and mobile app/database test strategy.
The tools we use for testing automation are:
NGI One
Mantis
Selenium
SoapUI
JUnit/NUnit
JMeter
APPLICATION MODERNIZATION
Do you have an application that serves your business well, but just needs to be upgraded or enhanced to keep up with today's pace and fast-moving trends? Next Gen Invent can help. Our team will partner with you to understand the changes you need, while maintaining the integrity of the original application. We can help upgrade applications to make them run more efficiently, update the user interface, or enhance the app through recoding, restructuring, or reprogramming.
GRAPHICS DESIGN
NextGen's team has years of experience with graphical user interface design. Our Graphical User Interface Services, including animation, allow for an easy-to-use and visually appealing interactive screen that complements our strong analytics tools. Our graphics design benefits are:
Data visualization services including claims and clinical data analytics
Usable by anyone with any level of experience in analytics
Efficient
Well thought out and well designed