Artificial-intelligence, Digital-health
Demystifying Artificial Intelligence for Healthcare leaders
---
Artificial Intelligence (AI), as defined by the English Oxford Living Dictionary "The theory and development of computer systems capable of doing activities that require human intellect, such as visual perception, speech recognition, decision-making, and language translation."
AI works on a set of rules underlined by algorithms without any supervision. When used for the right purpose and goals with ethics AI can deliver tremendous value. Many people fear that higher dependency on AI could result in unethical practices in the future.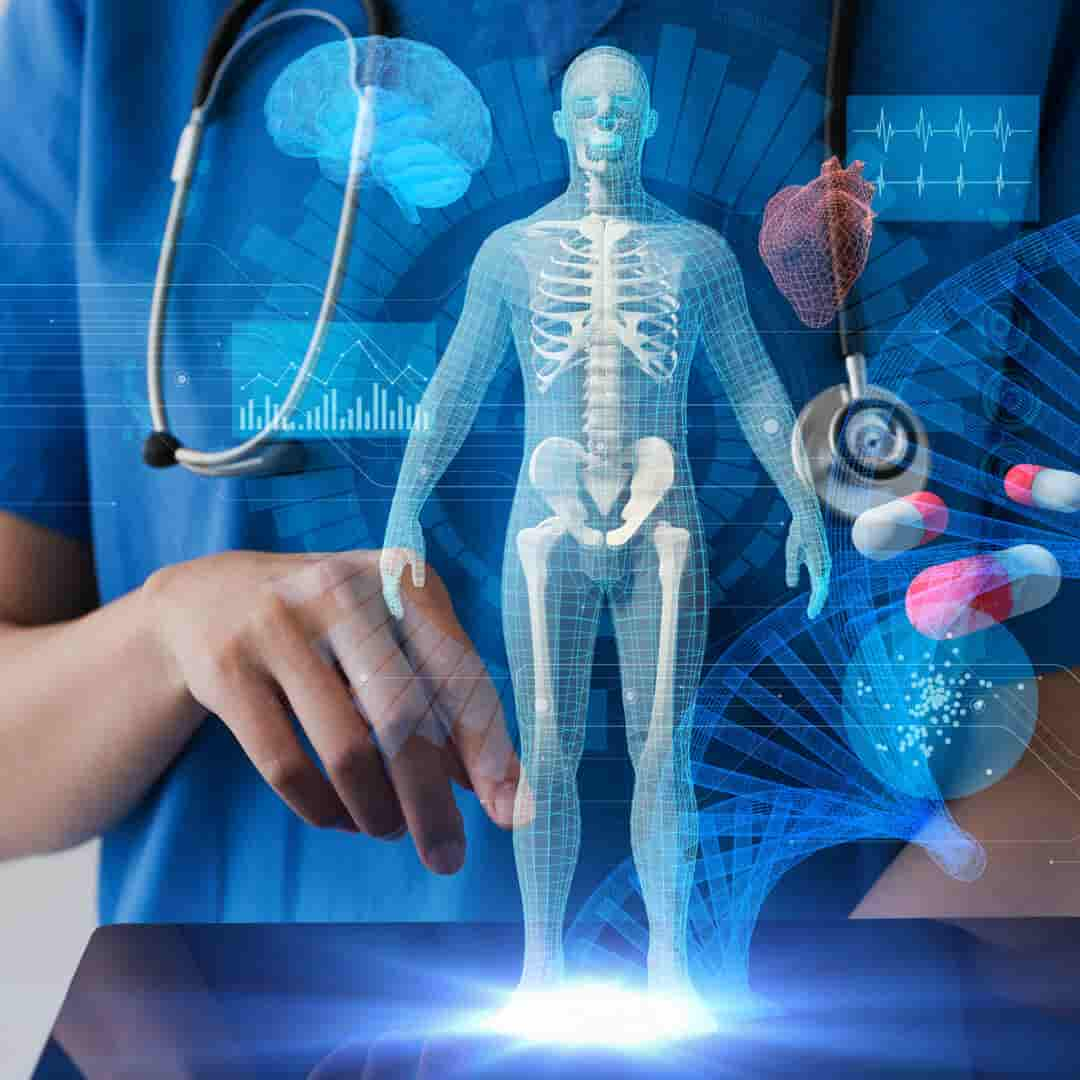 Many questions and misconceptions concerning Artificial Intelligence (AI) in healthcare are still prevalent. These challenges and misconceptions are especially relevant because healthcare is the next frontier for using AI technology.
Today AI is being used to:
Minimize human errors
Automate large and complex computations to improve diagnostics and treatments
Automate time-consuming contract negotiations with insurance companies
Provide better overall outcomes and more cost-effective patient experiences.
Automate time-consuming processes, and elimination of menial tasks
Thus, Healthcare startups or established enterprises in healthcare are looking to get ahead of the curve and starting to incorporate AI in their business model. Artificial Intelligence (AI) will be at the forefront of healthcare and future leaders in healthcare will bring new business models. The adoption of AI in healthcare solutions will eliminate human error, increase patient safety, and mitigate risks while reducing administrative costs. It is therefore essential to demystify the application of AI for future leaders in the healthcare domain.
Artificial Intelligence has become a growth engine for Healthcare Startups
In the quest to provide solutions to healthcare problems (prevent, cure, and treat any disease), entrepreneurs are now taking the help of Artificial Intelligence. Healthcare startups that bring Data, Analytics, and AI-powered solutions to the market are insight-driven organizations. Being an insight-driven organization helps healthcare startups develop, strengthen, increase productivity, and scale their organization by reaching the target audience
According to the report published by Research Expert Shanhong Liu, Statista,2020, marketing and sales get more benefit from adopting artificial intelligence (AI) technologies. The McKinsey Global Survey on Artificial Intelligence also showed that organizations are using AI to generate value in terms of revenue. Adopting Artificial Intelligence by healthcare startups in their business model leads to:
Increase in annual revenue
Reduction in operational cost
Gaining an advantage over competitive organizations
Increases the capability to bring new products through innovation
Monetization of Data Assets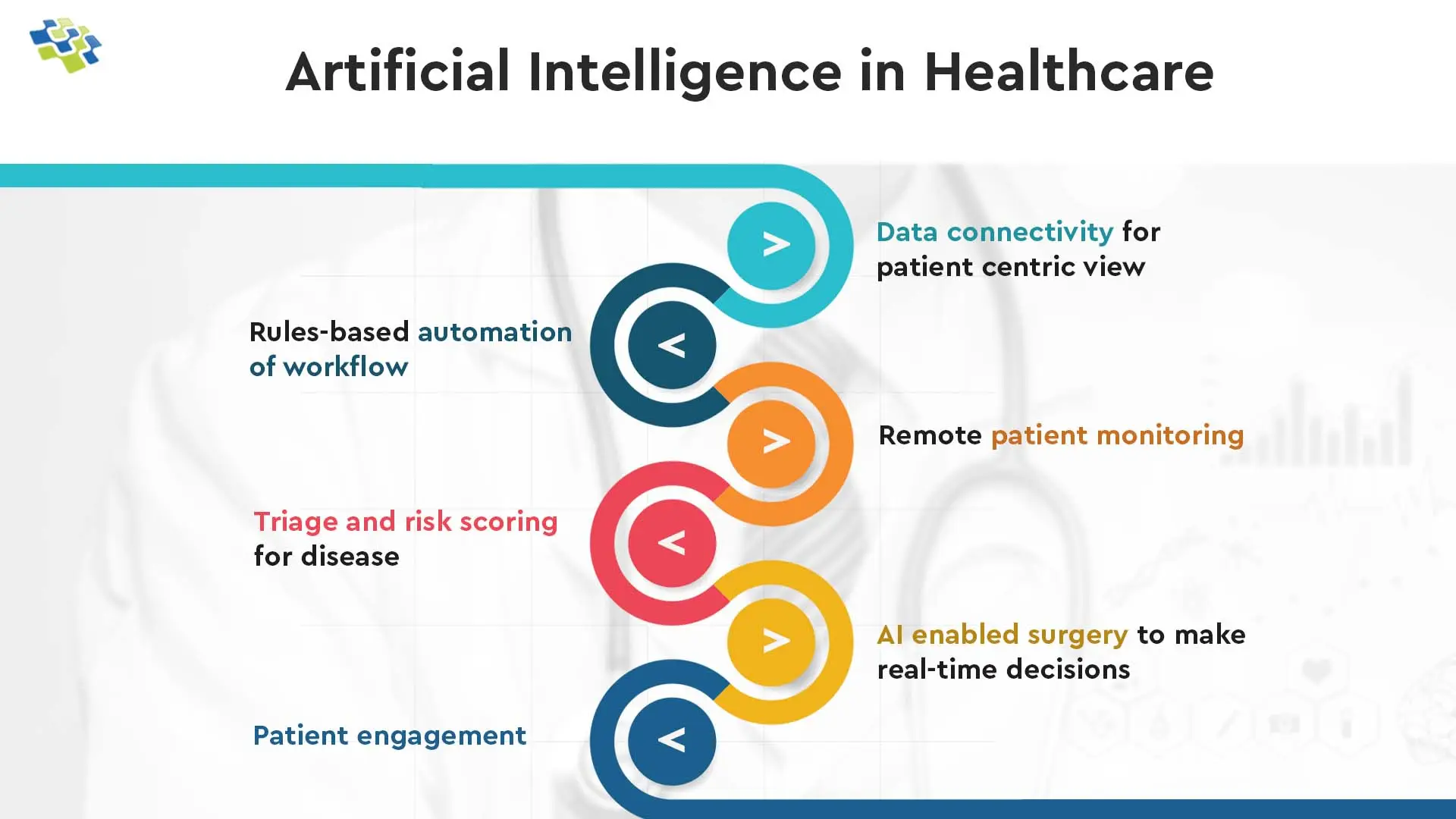 How can AI-enabled healthcare enterprises be the future?
1. Understanding the development and deployment of AI-enabled solutions
AI can execute healthcare duties similarly or better than humans in many cases. However, implementation issues may delay the large-scale automation of AI-based services in healthcare. To become future leaders in AI-based solutions for healthcare, organizations should know about identifying the right AI tool for different challenges and opportunities. Apart from this, organizations need exemplary implementation and project management skills to manage AI projects in healthcare. In addition, the decision-making body of such organizations should be aware of the significant trends in cybersecurity, ethics, and bias in algorithms, telemedicine, and clinical decision support.
AI applications are moving into domains that were previously regarded as only the domain of human ability. This is only possible because of recent advances in digitized data collecting, machine learning, and computing infrastructure. Therefore, the application of AI is common for diagnoses and treatment recommendations, patient engagement and adherence, and repeated administrative duties.
Thus, healthcare organizations should implement AI-based solutions and involve personnel with a technical background for a smooth deployment. This will help meet the patients' high expectations from smart hospitals regarding services and outcomes.
2. Understanding the current scenario and predicting the future trends in the following-
Artificial Intelligence in Healthcare Financial Management
In the e-commerce and financial sector, AI has improved customer experience, supply chain management, operational efficiency, and mate size. Their main goal is to create an inexpensive model high in quality, reliability, and which has a more extensive reach. Healthcare organizations, biopharmaceutical firms, etc., also use these models to predict and learn from the data in a similar approach.
Most existing and useful AI applications in healthcare finance focus on robotic process automation (RPA). The goal is to automate time-consuming and labor-intensive tasks like combining billing data from many sources or performing monthly account reconciliations. Machine learning is another AI technology relevant to claims and payment administration. Healthcare Insurance enterprises can use AI for probabilistic data matching across different databases. AI-based solutions can reliably find, analyze, and correct coding issues and incorrect claims. This will save all the stakeholders involved, a lot of time and money.
Hospitals and other Healthcare enterprises can use Artificial intelligence in many ways. Some of them are mentioned below:
Data and medical records management- Data management is the most visible application of artificial intelligence in healthcare. Gathering, storing, standardizing, and tracking patient information records is the blood for any solution. It is the first stage for developing any healthcare solution. Digital healthcare can be brought to market only when data is integrated, automated, powered by AI.
Tasks involving repetitive work- AI can analyze tests, X-rays, CT (Computed Tomography) scans, data input, and other laboratory and diagnostic tasks faster and more accurately than humans. Especially in cardiology and radiology, the amount of data to analyze can be overwhelming. Thus, incorporating AI-based solutions will save time and improve diagnosis and treatment.
Customized designing of treatments- Data analysis from medical images obtained through MRIs, CT scans, ultrasounds, and x-rays, can be carried out quickly with the help of AI. This helps in rapid diagnosis and choosing suitable treatment options for every patient specifically.
Consultation with the help of AI– In healthcare, the primary purpose of AI is to improve patient participation. Telemedicine through a smartphone can provide real-time assistance to patients, handle prescriptions, provide information on a wide range of medications, and suggest the dose range.
Drug designing– With several breakthroughs, machine learning algorithms are now being used to decrease drug discovery times. Artificial intelligence (AI) can make parts of the drug development process faster, cheaper, and safer.
Diagnosing diseases- Disease diagnosis and treatment have been a focus of AI since its introduction in healthcare applications. Artificial intelligence has been proven effective in the healthcare sector in several studies, and it can effectively detect and cure disease. Cancer diagnosis, genetic disease monitoring, mental illness treatments, diabetic management, and other applications are only a few examples, from the studies.
Robotically assisted surgery (RAS)– RAS using AI addresses the limits of prior minimally invasive surgical treatments and boosts 'open surgery' surgeons' capability.
Patient engagement- To overcome the difficulties of patient engagement, big data and artificial intelligence are increasingly being deployed. Across the healthcare sector, machine learning and business rules engines are increasingly being employed to develop complicated interventions.
Artificial Intelligence and Machine Learning in Health Insurance
Artificial Intelligence in healthcare is not limited to hospitals and pharmaceuticals. Healthcare Insurance providing enterprises also need AI. The use of Artificial Intelligence models in Health Insurance can be of many ways, including:
Use of Chatbots
Faster Claim Settlements
Personalized Health Insurance Policies
Cost Efficiency
Fraud Detection
Choosing the right health insurance plan for customers
AI-based enterprises can develop sophisticated models for Healthcare Insurance companies to offer services for patients suffering from any chronic condition. Models like home delivery pharmacies through healthcare insurance plans are also possible. Case managers can use cognitive systems to effectively screen situations, assess the data produced by AI more precisely, and make informed judgments. For example, usage-based insurance (UBI) plans that are highly dynamic and customized to the behavior of individual clients are becoming increasingly popular.
Conclusion
Studies have shown that AI can perform better and faster than humans in many crucial healthcare activities. A few ongoing studies on AI applications in healthcare paint a picture of a future where healthcare systems use is more cohesive and human-like. Algorithms are already surpassing radiologists in detecting dangerous tumors and advising researchers on building cohorts for expensive clinical trials.
Today, in this fast-changing world, AI is being used to address many of our problems. However, it is essential to know that as we study more and demystify AI, we will be able to explore several different uses of it. With such advancement in science, humans can explore uncharted territories in engineering and medical sciences, which once seemed impossible. AI for future leaders will involve discovering the phenomenal secrets of successful technology implementation in global health care. Thus, AI for future healthcare leaders will bring a new source of revenue, enhance innovations, generate a better lifestyle, and limitless possibilities for the greater benefit of society. Thus, enterprises involved in healthcare and pharmaceuticals should include AI-based business and service models and be the next leaders in the world of MedTech.