Predictions 2022: 5 Potential Trends in Health Care 4.0
---
Health Care 4.0
involves smart Healthcare delivery with the use of new-age imaging technology, intelligent sensors, medical robots, wearables, medical devices, and mobile applications combined with big data, cloud computing, Artificial Intelligence (AI), and decision support techniques. The rise in the application of Digital Healthcare during and Post COVID-19 has surged the revolution of
Health Care 4.0.
Here are the predictions on the five trends that we think will see innovations in 2022 and strengthen
Health Care 4.0.
1. Artificial Intelligence in Healthcare
In 2022, the growth in the application of Artificial Intelligence in Healthcare will be more aggressive than in the years 2020 and 2021. For instance, we may see innovations in imaging-based diagnostics, robotic systems in surgery, robotic systems to automate hospital workflows, and symptom checker chatbots. Innovative thinking in the application of pre-existing Artificial Intelligence will lead Health Care 4.0 in the following domains:
Smart Hospitals
Smart hospitals focus on making extensive use of cutting-edge technologies to improve patient experience & care and reduce the cost of Health Care. Hospitals will be in demand in the upcoming years for the following reasons:
The government and people are paying more attention to Health Management rather than the treatment of diseases. People are more involved in using AI to check their calories, monitor stress levels, reduce hospitalization, prevent diseases, and follow other criteria of wellness & healthy living.
Accurate diagnosis of the disease and identifying the accurate surgery site to provide high-quality care. This reduces undesired health-related infections experienced by hospitalized patients and reduces unwanted services from the hospital end.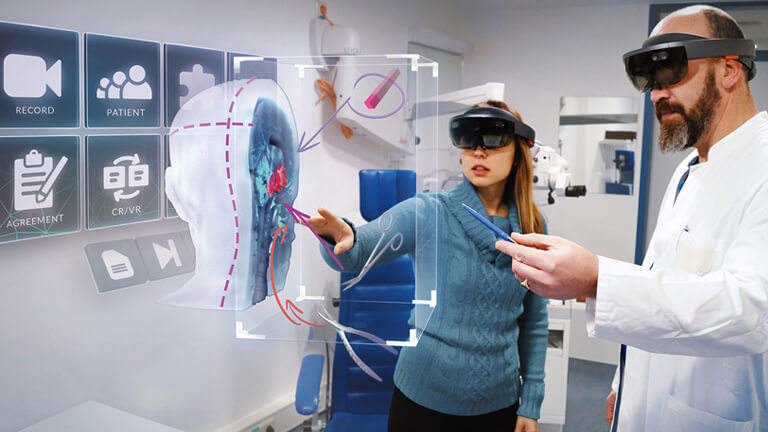 The prominent market leaders in smart hospitals are Medtronic (Ireland), Philips (Netherlands), Microsoft (US), GE Healthcare (US), Qualcomm Life (US), Honeywell Life Care Solutions (US), SAP (Germany), Siemens AG (Germany), STANLEY Healthcare (US), Cerner Corporation (US) and McKesson (US).
AI in COVID-19 Diagnosis
The entire globe has witnessed the strain on doctors and pathology laboratories in carrying out multiple diagnostic tests every day to detect COVID-19. Eventually, as new variants of COVID-19 unfolded, the workload on radiologists has also increased dramatically. Identifying patterns of pneumonia caused by COVID-19 from CT (Computed Tomography) scans of thousands of patients' data requires skilled personnel and in large numbers. Artificial Intelligence-based diagnostic testing for accurate and fast diagnosis of COVID-19 in many patients could be a solution to that problem. An example of such an innovative project in Artificial Intelligence-based diagnostic testing for COVID-19 is Imaging COVID-19. It is a multicentric European project that enhances computed tomography (CT) in diagnosing COVID-19 by using Artificial Intelligence. Continuing the case of COVID-19, innovations in AI have led to advancements in machine learning to develop vaccines. Thus, we can predict that in 2022, Health Care 4.0 will involve many more innovative AI-based diagnostic technologies and treatment options for COVID-19 and other dreadful diseases.
2. Telehealth 3.0
Before COVID-19, Telehealth was a lesser-known word in our day-to-day Healthcare activities. During COVID-19, when many countries imposed a lockdown to control the spread of COVID-19, Telehealth entered its 2nd phase (Telehealth 2.0). Online Healthcare Services then became more common in practice.
People started to use the following virtual Healthcare services from the comfort of their homes:
Booking COVID diagnostic tests
Consulting physician by booking an appointment
Booking an appointment with pathology labs to collect blood, urine, or other samples as directed by the physician, and
Ordering medicine from the pharmacy shop without stepping outside their homes.
Telehealth thus became mainstream, and eventually, Healthcare authorities issued multiple guidelines for good telehealth practices.
Hospitals were also able to cater more extensive patient base and provide virtual patient management, which was a lesser-known concept before COVID-19. One can analyze the rise of telehealth from the fact that the second quarter of 2020 saw 33 million telehealth visits which were 37% of all healthcare visits. A positive experience by patients (increased satisfaction and outcomes), improved patient access by clinicians, increased efficiency, low costs and high return on investment, and flexible work-life balance during the pandemic were some of the critical drivers for the transition of Telehealth towards Telehealth 2.0.
How is Telehealth 2.0 transforming to Telehealth 3.0?
Telehealth is witnessing its entry into the 3rd phase of Telehealth 3.0. Becker's hospital review defines Telehealth 3.0 as "virtual Healthcare that is now shifting from pandemic-fueled expediency and sprawl to consolidation, integration and purposeful central planning." Telehealth 3.0 is all about strategic investment and planning in most hospitals and health systems, to raise the possibility of integrating virtual Healthcare in the day-to-day life of human beings. Since people are now aware of and enjoying the services provided by Telehealth, the innovations in this sphere will be to ensure a seamless and easy-to-use experience for patients and providers. The target is to achieve greater integration and interoperability in terms of workflow and data-sharing and equipping the organizations with a scalable, sustainable enterprise-level digital infrastructure
3. Smart Wearables in Healthcare
Wearable fitness technology is not an unknown term to all of us. Fitbits and Smart watches equipped with sensors and synced to various smartphone apps have been in the mainstream of wearable technology for a long time now. Investments in smart wearables in Healthcare have led to the innovation of wearable ECG monitors, blood pressure monitors, and heart rate monitoring devices.
Smart wearables available in the market have many capabilities, including:
Monitoring ECG
Monitoring Heart rate
Monitoring Blood Oxygen Level
Monitoring the Quality and Quantity of Sleep
Tracking Hydration
Monitoring Pulse
Tracking Calorie Intake
Monitoring Respiratory rate
The section of smartwatches and fitness trackers in Healthcare is undergoing continuous innovation by a few tech giants like Apple, Samsung, Fitbit, and Philips. In September 2018, Apple launched the ECG and irregular rhythm notification features in the Apple Watch Series. In the same year, Apple released the "CMMovementDisorderManager" to help researchers gather new insights measuring and recording tremors and dyskinetic symptoms for Parkinson's disease.
The smart wearables market in Healthcare is booming rapidly since people now want to take control of their health and prevent many lifestyle diseases. Thus, the future of smart wearables is not likely to slow down anytime soon.
In October 2021, Apple launched the Series 7 of the Apple watch with Fall Detection Technology. So, what can we predict for 2022 in the niche of smart wearables that will enhance the quality of life and lead Health Care 4.0?  We can expect innovations in smart wearables in 2022 that will
Develop smart hearing aids
Monitor blood sugar and alcohol levels
Supply emergency relief during seizure attacks
Provide support for any musculoskeletal disorder
Provide warning messages while entering COVID-infected areas, and many more.
The Consumer Electronics Show held on January 05, 2022, witnessed Abbott Laboratories, as exhibitors, unveiling their new line of biometric wearables towards strengthening Virtual Health. Abbott's new line of consumer-facing wearables has been termed "Lingo." These wearables are equipped with sensors to track biometrics such as blood glucose levels, ketones, lactate, and even alcohol. However, Abbott has mentioned that these wearables are not for medical use, and it depends on the user on how to use the data. One can read more about Abbott's new biometric wearables by visiting the following link.
The Consumer Electronics Show, 2022 also witnessed significant health and Wellness Exhibitors like AT&T Business, Revival Health, Sleep Number, and Dassault Systems Americas.
4. Healthcare Privacy and Security
With the fusion of the digital era into healthcare, it's no surprise that the challenges owing to the survival of the digital Healthcare ecosystem would be much more coherent. Every second, with loads of data getting recorded and transmitted onto the mainframe servers, it has its own set of challenges to cope with.
The first and the most intrinsic part is handling the privacy of the user's information, being tracked by the smart devices. The primary objective in developing an AI-based Healthcare application is to provide the medical professionals with all the patient's relevant clinical information. This offers better treatment and management of any patient's medical condition without hassle. However, one should not ignore that the same technology is constantly under the radar of exploitation by hackers befitting personal interest.
To be more precise, the term "Cyber Security" is no longer restricted to malpractices in the banking or corporate sectors but has also doomed the present era of the digital Healthcare ecosystem. One such instance to validate the fear that the user's information would get compromised at some point in time is the "WannaCry" Ransomware attack in the year 2017. The breach collapsed a significant section of the digital Healthcare community, thereby leaving no option other than to meet the demands of the hackers to rescue the users' information enrolled onto their systems.
As more devices are getting integrated into the digital Healthcare ecosystem, 2022 may see a breakthrough in neutralizing the constant threat of information breaches, jeopardizing the personal interest of hackers. Improvising the AI algorithms and introducing more sophisticated, reliant Healthcare applications would be prudent to tackle the unforeseen circumstances. Safeguarding patient information will ultimately strengthen Health Care 4.0.
5. Data Connectivity in Healthcare
The primary objective of Digital Health Care is to increase Healthcare facilities using the latest technologies for better clinical outcomes and decrease medical costs to patients without jeopardizing their social life. One aspect of Digital Health Care is breaking down traditional data integration and Healthcare management practices into electronic formats. Moving on from the conventional pen-paper records to electronic means of handling patient medical records, biometrics details, physician's notes, clinical and laboratory reports, medical billing details, regular health update reports, and Healthcare insurance details, big data has revolutionized the Healthcare domain in favor of a massive digital infrastructural change. Thus, Big data is a pioneering revolution driving Health Care 4.0 to achieve its objectives.
A systemic review article published in the Scientific Programming Journal, 2020, estimated the size of electronic Healthcare data across the globe to have reached 25 petabytes in the year 2020. With terabytes of health care data accumulating onto the servers, the primary focus is to successfully integrate this enormous amount of data, interconnect the dots and squeeze the impactful information out of the integrated digital Healthcare ecosystem.
So, what can we predict in 2022?
With the rapid growth in cyber security, science, and technology, the year 2022 may become revolutionary for applying data in the early-stage detection of life-threatening diseases. Healthcare Professionals and Industry leaders will move towards Data Driven Decision making to address the key quality parameters in provide patients with the best possible healthcare outcomes and reduce cost for hospitals and insurances.