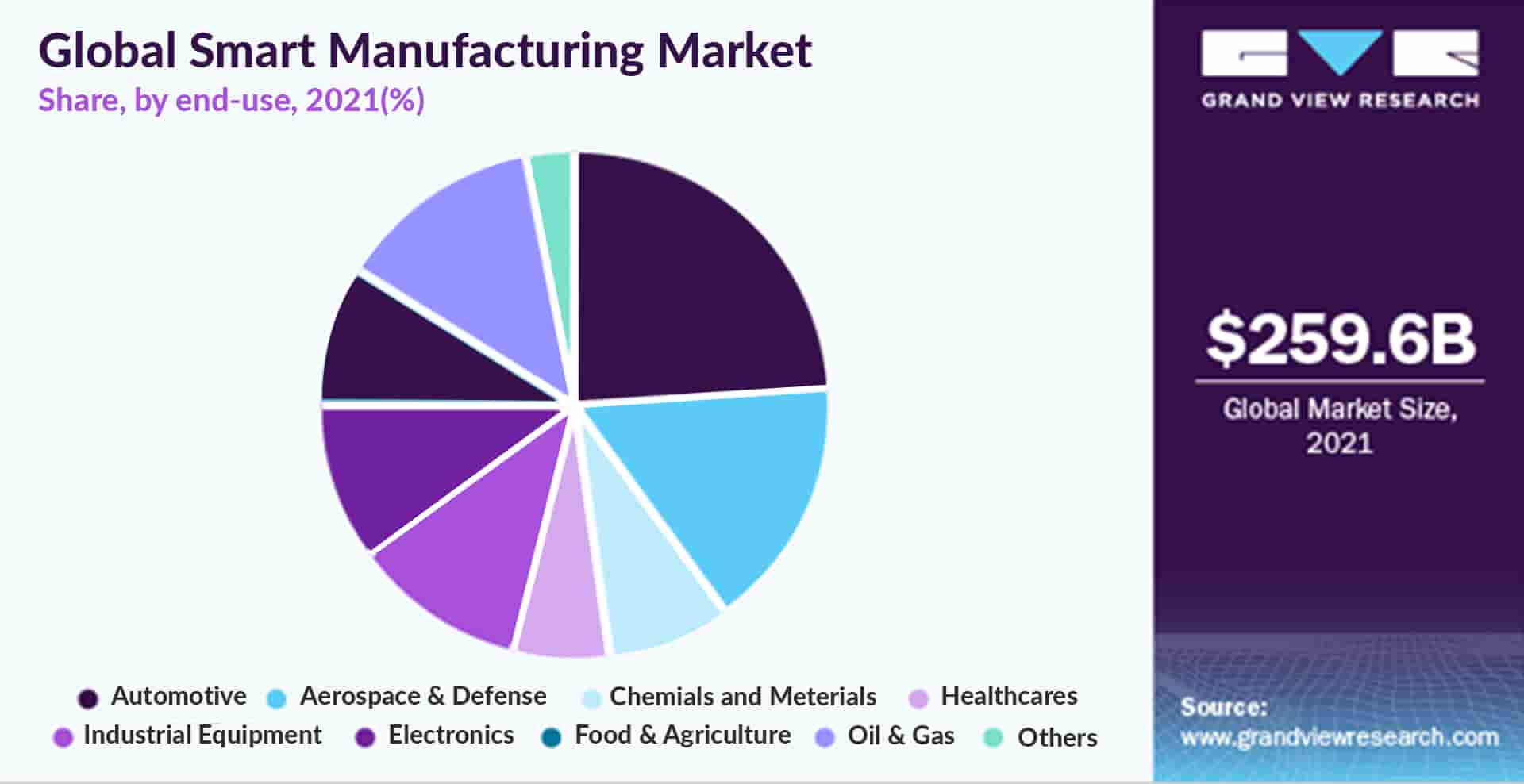 The power of Data, AI, automation and Analytics can enable manufacturers to increase productivity of their business by providing insightful predictions for better decision making and enabling intelligent automation.
Smart factories can monitor an entire organizations processes, from sales and product design down to the individual operators on the floor and support. Smart factories are powered to get a comprehensive view of all processes, which leads to faster response times, stronger decision-making capabilities, and fewer delays.
Data is the key to 'Smart Factories'
When data is entered and managed manually, it is inconsistent and has missing value to support improvements in the manufacturing processes.
Sensor Data Gathering: Digital sensors installed on sensor-rich machines have enabled faster real-time data availability from factory floors. The availability of high-quality, high-value data enables the vision for "Smart factories of the future", characterized by timely scheduling of tasks and pro-active actions. Process insights from manufacturing plant floors for all operations have opened doors for real-time surveillance, operational optimization, and adaptive controls.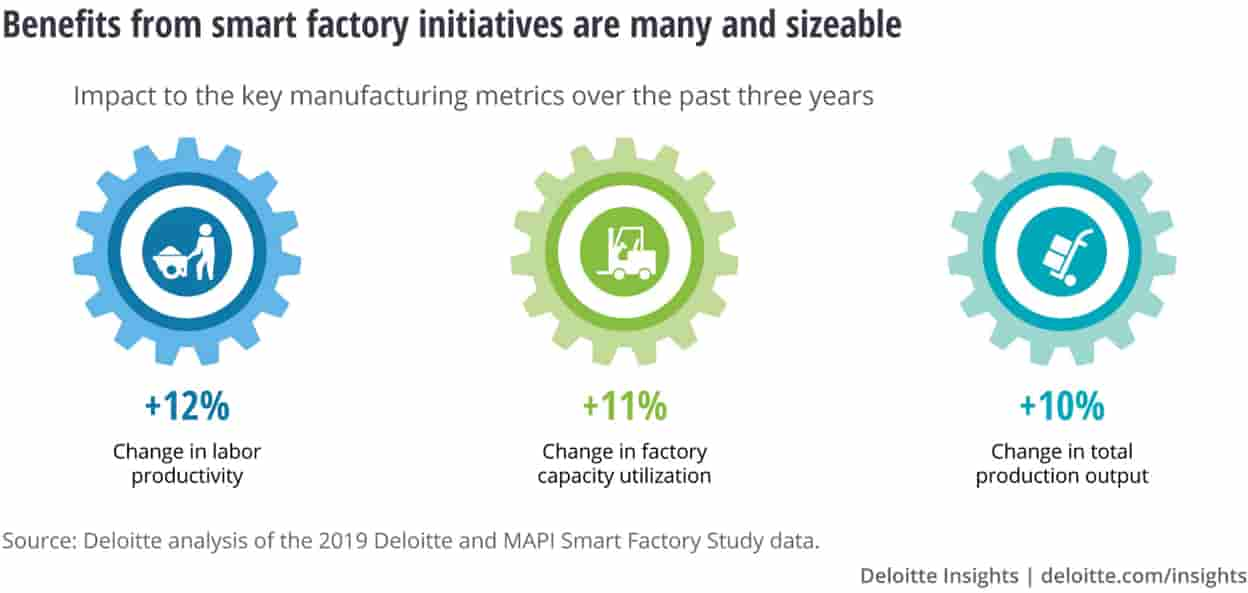 Cloud Enablement for Data Storage and Computing: Advancements in computational infrastructure, represented by cloud and edge computing, have made it feasible to manage big data. This supports tasks of different temporal requirements, from process control to production schedules. The emergence of distributed production has transformed the traditionally centralized factories into a more service-oriented, individualized manufacturing resource.
McKinsey has predicted that data will play a central role in intelligent manufacturing, with key technologies including
Automated in-plant logistics
Data collection across supply chain
Data-driven predictive maintenance
Automation and human-machine collaboration
Digitalized quality system and process control
Digital performance management
Smart planning and agile operations.
Data to enable better Decision Making
By digitally integrating an organizations' current systems and harnessing data, companies are in a position to develop and refine areas like lean manufacturing and workforce management. It allows organizations to explore new ways of optimizing operations, driving higher productivity, and harnessing talent.
Understanding Managerial Decisions Amidst Uncertainty – Data analytics allows leaders to reinforce decisions through a process of iterative, evidence-based decisions. Educating executives can help reduce the knowledge gap by marrying traditional data analytics with management thinking and decision-making.
Once a data mindset is adopted, the next step is putting that insight into action and building the infrastructure in the organization to make good use of the available data. At its core, being exposed to data analytics, new analytics tools, and new ways to think about data can change how we approach problems and solutions.
Data to Understand Customer Needs and Product Quality
The success of IR 4.0 and IoT technologies for the manufacturing industry depends on digitalization, Data + AI + Analytics technologies. It can enable decisions on logistics, risk estimation, cost structures, growth strategies, quality control and improvements, built-to-order and other sales models, and post-sales services.
Manufacturers use data analytics to forecast customers' needs for products. User data collected includes demographics, purchase patterns, user preferences, search history, browsing history, and more.
While this is a relatively new method of analyzing information, big data can now be used to understand consumer behaviour, which in turn can help improve customer satisfaction. Consumer behaviour knowledge leads to better promotions and target products, increasing sales, improving, and optimizing customer experience.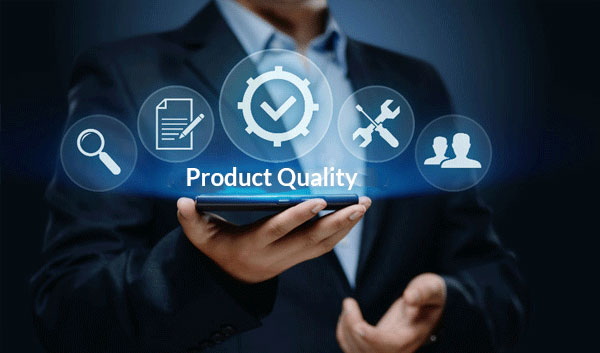 Focus on Product Quality
Data-driven quality control techniques make a stronger platform to manage quality efficiently. With sensors, RFIDs, and machine-based applications at their disposal, manufacturers can now collect product quality data, such as various parameters, including location, machining, tolerance, and geometrics.
Computer vision can perform all-round quality monitoring, detect defects early, and provide a quick diagnosis. The data gathered can also be used to identify the root cause of product production failures. Using the latest technology, defects can be detected, diagnosed, and addressed before shipment reducing returns/refunds. Using data mining and data integration issues with equipment and inefficient procedures can also be detected.
Data to Increase Overall Equipment Efficiency (OEE)
OEE, or Overall Equipment Efficiency, a measure of performance, can be broken into three parts: Quality, Productivity, and Availability. As the single most important measure of production measuring KPI: what proportion of the operational time a facility has been productive.
A smart factory uses cloud-based data analytics, AI/ML models, and Automation capabilities to speed up efficiency programs. With technologies such as, IoT, ML, and analytics, companies can build a hyper-connected production ecosystem powered by data to identify, predict, and avoid unplanned downtimes, from equipment malfunctions to quality issues.
Data to Enable Intelligent Automation
Predictions made by Gartner indicate, "By 2025, more than 90% of enterprises will have an automation architect, up from less than 20% today."
According to McKinsey, "At its core, Intelligent Process Automation (IPA) is an emerging set of new technologies that combines fundamental process redesign with robotic process automation and machine learning. It is a suite of business-process improvements and next-generation tools that assists the knowledge worker by removing repetitive, replicable, and routine tasks. And it can radically improve customer journeys by simplifying interactions and speeding up processes."
Manufacturing industries are facing myriad challenges — from reducing downtime and having to meet ever-increasing regulations, to supply chain complexities, and growing skills gaps. Staying ahead of evolving demands in manufacturing is a tall order.
All these challenges have presented an excellent opportunity for manufacturing companies that adopt AI and automation technologies to speed up their journey to digital transformation. AI, Automation, and advanced analytics is helping to present a realistic view of operational efficiencies, workforce costs, and allow better decision-making, thereby transforming the landscape of manufacturing unit.
With digital robots, manufacturers are processing massive amounts of data to optimize order fulfilment, sourcing, scheduling appointments, and alerting. With predictive analytics solutions, maintenance engineers can predict errors and be able to fix them before the equipment is significantly affected. This technology allows for deep inspections of quality, which are far more detailed and robust than those done by humans.
Conclusion:
The move towards automated software, connected equipment, and data analytics are being mirrored by manufacturing companies looking to optimize their factory floors through recent technological advances. People + Process + Technology with data when brought together in the right mix can transform a manufacturing unit into a digital enterprise, making them a basis for robust smart factories. As manufacturing companies continue to embrace smart factory technologies, they will enjoy the benefits of maintaining predictive maintenance in their machines, better data stream management, and cost savings across a range of areas.
Stay In the know
Get latest updates and industry insights every month.