Digital-health, Digital-transformation
The Future of Digital Health Technology: Personalization is the Key
---
Over the past decade, the healthcare industry has seen tremendous developments and innovations, and without a doubt, we have only scratched the surface. The inner workings of the healthcare industry are being improved and, by extension, transformed with the implementation of new innovations such as artificial intelligence and other digital health tools.
For long, health care systems have been provider-centric, meaning that patients visited healthcare providers based on the provider's schedule as opposed to the patient's convenience. The new transformations, however, are leading the way into creating a healthcare domain that is more patient-centric and personalized.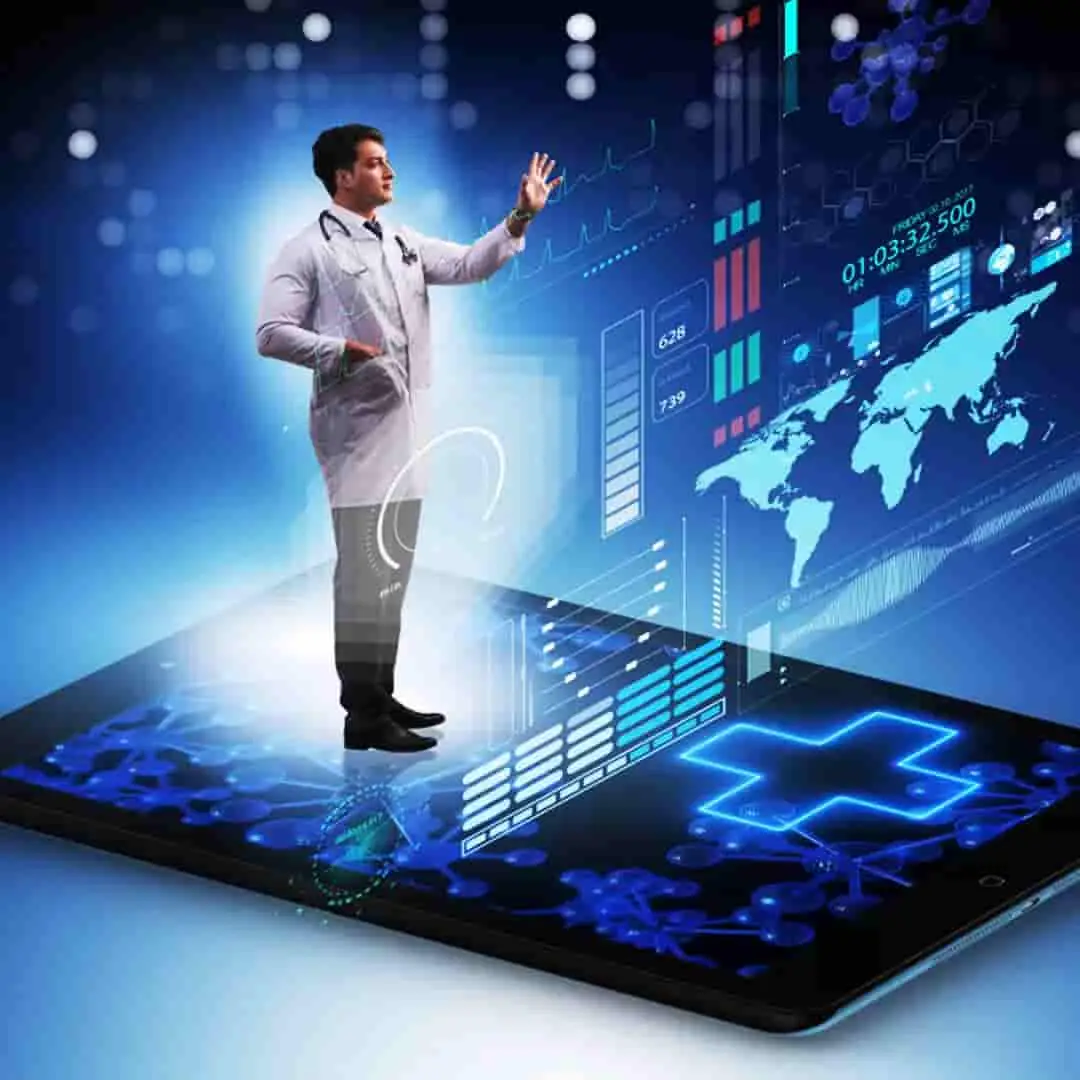 What is Digital Healthcare and How it is Helping?
Digital health has become an increasingly adapted technology and is functioning as a core component of personalization. It incorporates digital transformation into the healthcare sector by integrating software, hardware, and services. Components such as telehealth & telemedicine, AI-empowered medical devices, electronic health records, mobile health apps, and wearables are a few of the examples of digital transformation in healthcare. Such components are entirely reforming the way one interacts with health professionals. The abundance of data that is collected is shared among the providers to help make accurate decisions about treatment plans.
The main characteristic of personalized health care is providing the patient with choices and options that address a person's unique needs and life situations. This ensures that care is offered anytime, anywhere. In such a system, care providers communicate with patients to acquire their definition of health goals and preferences. This helps the care providers make informed health decisions, while also keeping in mind the patient's wishes and goals. With that goal in mind, healthcare tools primarily manage health conditions and track progress digitally. They also accommodate virtual visits with a doctor or any such caregivers to further support the patients to actively manage their health.
Mostly, the healthcare sector is divided into two parts, one is the emergency services and the other one is the chronic disease segment. Between the two sectors, chronic disease is responsible for a huge part of the total healthcare costs of individuals. Diseases such as diabetes, hypertension, or heart disease, require somewhat tailored care delivery to one's personal health goals. To start with, chronic disease symptoms mostly are unique to every person and usually become a part of the patient's life that requires regular monitoring and treatment.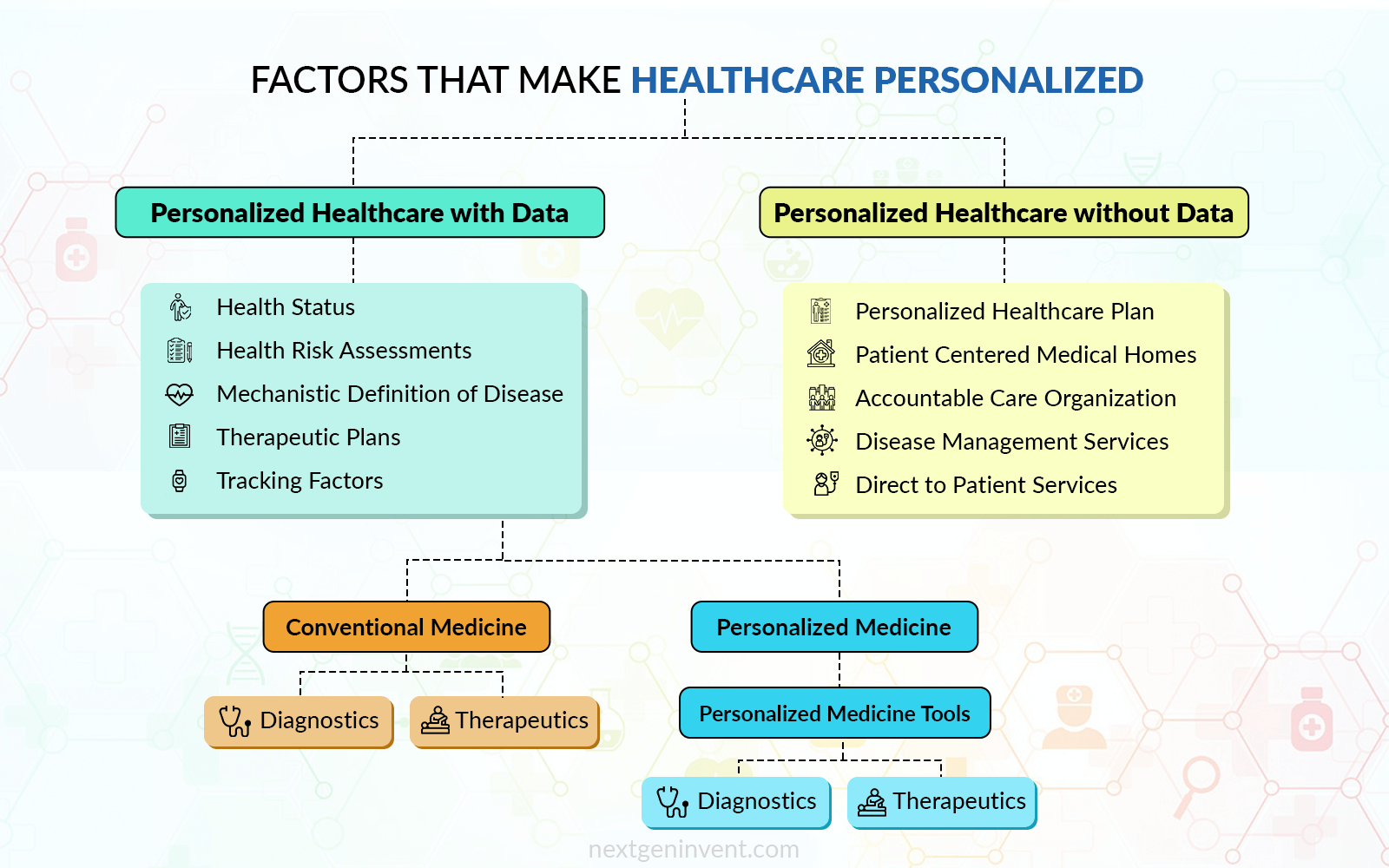 The entirety of 2020 and 2021 made the world stop and think about the ways of conventional living. When the whole world was restricted from leaving their homes, everyone decided to bring everything home. In 2020, people became accustomed to smart homes, online groceries, and work-from-home set-ups. But unfortunately, the healthcare industries were still lagging when it came to implementing digital strategies. During Covid-times, digital health became a sensation very fast. With the click of a button, one can make informed decisions about their health, track their health progress and connect to provider teams.
Let's enlist the factors that make healthcare personalization a hit in the masses.
Healthcare does not fall under one-size-fits-all. As discussed, the same disease can manifest itself very differently between two different people. Therefore, different patients might need different approaches to treatment for the same condition, in order to create their healthiest outcome. When a patient visits a doctor in the office, storing patient history becomes an elaborate exercise. A telehealth tool not only makes the visit easier but also helps collect and store much more data thereby making the data accessible in an instant for further decision making.
Have you wondered how Netflix comes up with suggested content that is tailored to your interests? Or Amazon exactly knows your preference in books. Well, by now, most of us are very familiar with the concept of Machine Learning that decodes the "behavioral phenotype". Implementing this concept in healthcare can help determine how to tailor the data or information for a better-personalized experience. This is just one example of using data for making digital health solutions more personalized and effective. As more devices like wearables are becoming mainstream, the data will become more and more available and accessible. This data can then be used by providers through AI and Machine Learning to analyze and draw a better picture of each patient.
Now that we know personalized technology is all about a vast amount of data and its analysis, we can say that it has the power to revolutionize healthcare both for common as well as rare conditions. Similar to Big Data, where there is a data dump in an open platform for everyone to access, in the healthcare domain, the technology collects patient data from around the world. From the abundance of data, healthcare providers can have all the resources available. Consider the situation where a person with an incredibly rare condition is located in the US, and the care provider is clueless about the symptoms while a person with the same rare condition is located in Norway but receiving treatment. With a vast number of resources, the care provider can access their treatment data to decide the best course of action.
The future of data analysis is mostly about risk or threat analysis. To look for ways to prevent loss rather than recover from it. The Healthcare domain is no exception, it is more about preventing disease than treating it. Healthcare providers are focussing more on preventative measures instead of preparing to perform risky or emergency procedures. Personalized healthcare is understanding each patient and their risk factors.
Further read: Digital Health is Here to Tackle Wellness & Diseases
Conclusion
For an industry like healthcare which is predominantly based on a myriad of data, the best and the most problematic part is humans. On one hand, it is often too difficult for humans to stay updated on data and treatment options. On the other hand, caregiving always needs the human touch to comfort an ailing patient. The future of healthcare personalization will eventually automate everything from data entry to medicine distribution to diagnosis and scientific analysis. This will provide the caregivers with everything they need to curate the best-personalized care. Not only that but, while machines take up all the redundant tasks, providers can also focus more on delivering quality care to each patient. Additionally, the machine is precise and beyond human errors, therefore reducing diagnostic errors and providing accurate outcomes.
In summary, the future of digital healthcare is "personalization and efficiency" and it has already started. With strong and deep-rooted data at their disposal, health care providers will be able to treat patients for the best of outcomes and share their findings more readily and with greater ease. With the combination of digital transformations and the concept of personalization, healthcare will provide the best of both worlds, human touch, and technology.