CONSULTING AND IT STRATEGY
For most companies, it is unrealistic to have in-house expertise in all areas. In this ever-changing technology landscape disruptive technologies such as Blockchain, Artificial Intelligence, Advanced analytics, IoT, and augmented reality are making a wave. Wouldn't it be beneficial to have an expert, who can outline on how technology can be used to meet IT and business goals.
"It's good to learn from your mistakes, but better to learn from other people's mistakes." – Warren Buffett
NextGen Invent Corporation can bring industry analytical skills, experiences and proven results to your organization with innovative solution. 
Technology Adoption: 

Disruptive Technology such as Blockchain, IoT, Augmented reality
Artificial Intelligence
Digital transformation
IT Strategy:

Analysis for Buy vs. Build decision
Technology selection
Optimizing IT processes
IT Process automation including configuration management
Program management
Scalability, and failover and robustness

Technology Audit: Technology due-diligence done on the system of acquired company to provide insights on "under the hood"
Compliance: PCI, HIPAA, and SOX compliance
INTERNET OF THINGS
Internet of Things (IoT) is already happening everywhere in our life. Medical devices, fitbit, cars, watches, home appliances and much more are being connected and communicating with us. Now, all you need is your imagination on how you want to connect and use the "THINGs" and a trusted technology partner who can transform your vision into a reality. If your IoT initiatives have one of the following questions then our experts can bring their knowledge and best practices to help you:
How to define the value of an IoT initiative?
What are the technical challenges in developing an IoT solution?
How to reap benefits of IoT solution across other company initiatives?
NextGen Invent's IoT solutions cover wide-range of industries and usage of devices and data. We have developed complex enterprise solutions to collect data from drilling sensors (in drilling machine) a mile under the earth and transferring  it to cloud from oil rigs. Our real-time charts and analysis enabled geo-scientists to make real-time decisions.
Ask us how we transformed a large wellness company, using IoT solution. Medical device's data gathered and transformed into insights that resulted in preventive measures to improve health. We have many more such use cases, contact our experts to discuss and define the following:
Build and Control Things – Build your unique service using data gathered from smart devices.
Analyze Big Data to get actionable insights – Apply advanced analytics to uncover new business insights.
Prioritize Business Actions – Transform insights into action and prioritize those actions to get the low hanging fruit to save cost or gain more market share.
TECHNOLOGY
The integration of technology into company operations has become one of the most important parts of a robust and successful business.  We provide many technology services that are necessary for companies to succeed in today's technology-centric world. NextGen Invent's management team has years of experience and knowledge to grow your business.
Our core services include:  
Cloud and Mobile Solutions
Testing Center of Excellence
Analytics Solutions (including big data solutions and cloud computing)
Data lake and Data Management (including big data integration)
IT Strategy
Business Analysis
Program Management
MANAGED SERVICES
Our talented team of experts work together to create the right solutions for your company. NextGen Invent creates custom end-to-end solutions for your company that will help you grow and expand. With over 20 years of experience working in IT, we are capable of handling any of your business challenges. Our IT Solutions can help you reach your goals effectively.
Our services include: 
CRM Services to improve customer retention and growth.
Business Process Automation.
Software maintenance and day-to-day management.
ANALYTICS
Across all industries, companies are leveraging the power of analytics to solve business challenges, become more efficient, and increase growth. NextGen Invent is known for our expertise in big data analytics and creating custom solutions to meet your organization's needs. Our tailored approach will equip your company with invaluable insights to help streamline operations, implement cost-effective solutions and strategic decisions, and optimize company resources.
Our analytic services include:  
Social Media Analytics
Prediction Model Development
Big Data Solutions
Cloud Computing
These services combined with our extensive background in analytics and software such as SAS and tableau, will provide your company with a competitive advantage.
BIG DATA MANAGEMENT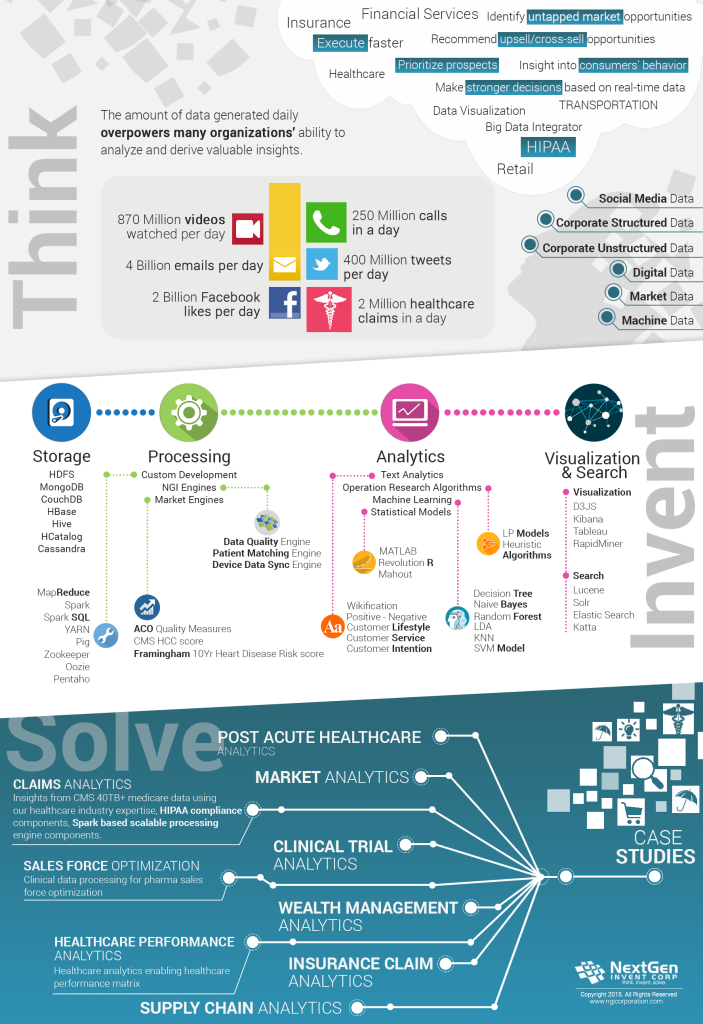 NextGen Invent is known for industry knowledge, technical excellence, statistics expertise, and analytics experience — ranking in CIO Review magazine's top 20 list of promising big data companies of 2013. We can help you leverage big data insights to answer your most pressing and strategic questions related to performance and growth.
When it comes to big data, at NextGen Invent we partner with you to Think. Invent. Solve. Request a free consultation to learn more!
The daily avalanche of information appearing in emails, claims, policies, clinical notes, surveys, underwriting notes, CRM data, application logs, and social media is overpowering many organizations' ability to analyze this information and derive valuable insights.

The capacity to process, store, and quickly analyze this information is vital for data-driven decisions and execution. An innovative big data solution can help you:

Identify untapped markets and prioritize prospects.
Gain insight into consumers' behavior.
Find inefficiencies and improve performance.
Increase profit and reduce customer attrition.

These points name just a few of the benefits organizations can reap from the right big data solution. Request a free consultation to learn how NextGen Invent can help you meet your specific business needs.

We develop big data solutions using both market-leader and open source products to help your organization successfully tackle challenges like

Gaining vital insights with analytics. Across industries, data-driven insights are helping business leaders analyze historical data to predict future events. With in-depth experience and industry knowledge of the insurance and financial services, healthcare, retail, and transportation industries, NextGen Invent can help you with predictive analytics and text analytics to find hidden insights and convert text into data.

Click here to view our latest presentation at Coling conference.

Big Data Search and Visualization. We live in an era of interactive charts and insights without reading thousands of spreadsheets. Leverage the power of data search and visualization for stronger, faster decision-making. NGI provides custom solutions using Tableau, xtLytics, Rapid miner, and other open source technologies and search solutions using ElasticSearch, Lucene, Solr, and other open source technologies.

With experience developing strategy and solutions for diverse organizations from startups to Fortune 500 companies, and special industry expertise in the financial services, healthcare, retail, and transportation industries, we can help you drive results in both the B2C and B2B realms.

We partner with you throughout the development process and beyond. From analysis and strategy to development and testing, and finally to maintenance — NextGen Invent is there to help you succeed.