TESTING CENTER OF EXCELLENCE
Shorter feedback cycles and pressure from digitization is increasing the demand for better application quality. Our testing center of excellence ensures better application quality via a portfolio of our testing services. Our testing services help the organization to stay agile and meet DevOps goal of the continuous delivery model.
Download Slide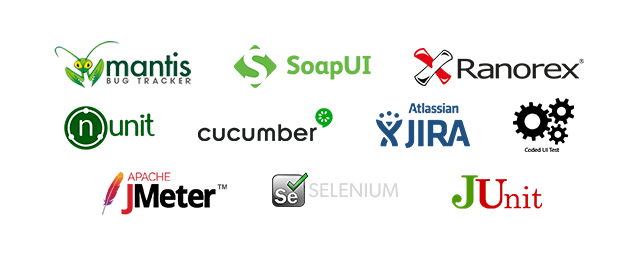 MANUAL AND AUTOMATION TESTING
We cover unit testing, smoke testing, sanity checks, localization testing, integration testing (api, data formats), multi-platform testing, fail-over testing, user experience testing, functional testing and regression testing. Our services include :
Test program review and assessment

Execution and Management of tests

Test planning, design, and development

Test tool acquisition

Testing for Web, Mobile, Client Server and Web Services

ON-DEMAND TESTING LAB
Our testing lab includes:
Operating System test lab

Mobile Device test lab

HIPAA compliance test lab

Browser test lab

TESTING STRATEGY
Our testing strategy addresses challenges around digital testing and helps IT organization to meet digital transformation goal.

PERFORMANCE AND SECURITY TESTING
Implementing and managing security, performance (data volume and user load), automation testing in multi-cloud and on-premise infrastructure using various browsers, and devices.

ON DEMAND TESTING: TESTING AS A SERVICE
Scale up and down based on business need.

AI TESTING ERROR ANALYSIS
Our error analysis tool allows you to validate accuracy, transparency, relevance/importance of your AI models with ease. We presented our tool at Coling Conference. Click here to download our error analysis tool white paper

TESTING DATA GENERATOR
Our testing data generator tool allow you to create test data with all possible scenarios in no time using our test data generator api.

TESTING BEST PRACTICES
Our behavior driven testing approach, templates, and test cases libraries bring specifications, test cases and test results together into one source of truth.

AUTOMATION ROBOT
Automation robot is an innovative tool that allows testing team members to automate the functional and regression testing of your web apps without knowledge of tools like Selenium.
Have a highly skilled selenium developer with twenty years of experience and if he takes eighty hours to automate the testing then the same testing automation can be done by a testing team with no selenium experience in sixteen hours using our Automation Robot. Our automation robot tool is built at the top of Selenium to save you time. Learn more…